Mobile Phone Data Recovery Software
Mobile Phone Data Recovery Software
Today mobile phone are equipped with innovate functionalities. The cell phone has become important part of our lives. Using multimedia mobile phones you can take pictures, record videos, audios and store data. But accidental deletion, virus attack and all kinds of mobile phone memory card errors would cause major problem.
If you have lost data from cell phone device and want to get back utilize data recovery software to recover all lost files and folders from mobile phone.
Mobile phone data recovery software is program that allows you to recover lost or deleted data from mobile phones. Software helps you to recover lost or deleted photos, images, pictures, videos, audios and other crucial data from your mobile phone device.
Mobile Phone Data Recovery Screenshots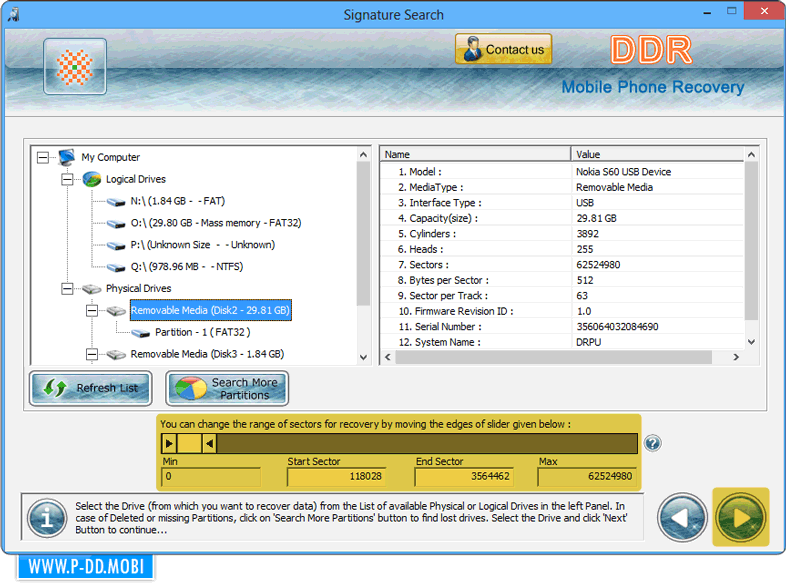 Product Features
Formatted mobile phone's memory card: Mobile phone data recovery software can recover data including photos, videos, pictures, images and other files from formatted or reformatted memory cards of mobile phone.
Logically crashed cell phone memory card: Cell phone data restore program has capability to recover data from logically corrupted cell phone device.
Virus infected mobile phones: Mobile phone data restoration software can recover data even if your cell phone memory card has been infected with viruses or worms.