Removable Media Data Recovery Software
Removable Media Data Recovery Software
Removable media data recovery software is easy to use utility to recover all lost or missing photos, picture, audio-video files from USB flash removable media drives. It recovers data from different flash removable media including External hard disk drive, Portable flash memory devices, PDA device, Mp3 player, Digital audio player, Mobile communicator and other popular removable media storage devices. Recovers deleted files when removable drives are inaccessible by your computer or in case of accidental deletion, formatted USB devices, virus attacks, software malfunctioning or any other logical failure to access the data.
Easy to use utility takes minimal time for the data recovery, which is very easy and safe to use. Recover data loss after error message like 'Drive not formatted' displayed while accessing your removable media on your PC. Data recovery support to all major removable media brands including Canon, Konica-Minolta, Kodak, Samsung, Kingston, Sony, Toshiba etc.
Removable Media Data Recovery Software Screenshots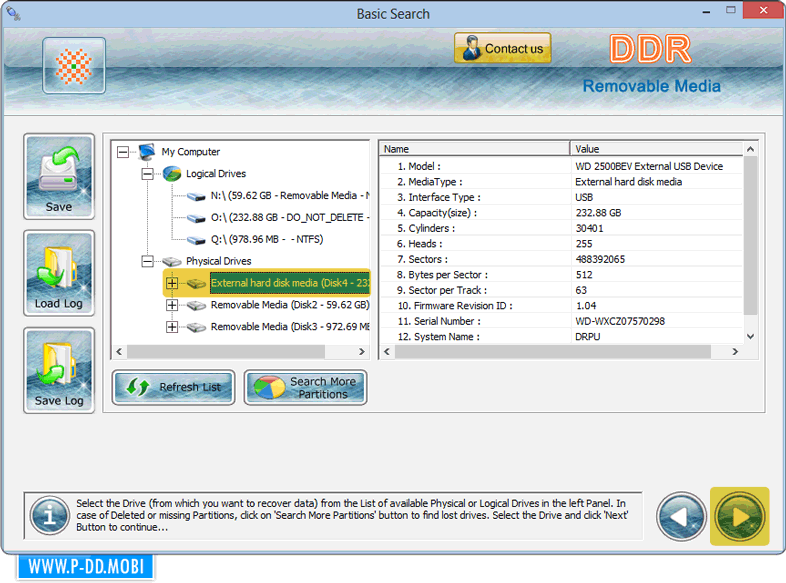 Removable Media Data Recovery Software
Product Features:
The software is safe and easy to use read only utility for the lost data recovery.
Supports major removable media manufactures including Canon, Panasonic, Kodak, Nikon, Samsung, Olympus, Sony, Toshiba etc.
Recovers lost, missing, deleted data from your removable media.
Retrieves files from various error messages displayed on your computer screen.
Software is technically sound and easy to use and take less time for data recovery.
Software is easily accessible even by the general (non-technical) users.