Secure Data Wiper
Secure data wiper is an advanced wiping tool that permanently cleans and removes all deleted confidential data records from your windows hard drive or removable media and safeguard your computer privacy. The Software wipes entire disk drive (both saved or unsaved data), unallocated area on your hard disk and deletes record of offline and online internet activities such as history, cookies, URL list, cache internet files, recently deleted documents list from your PC.
The wiping tool uses various disk erasing algorithms to clean up your computer hard disk space. Entirely delete most recently used application of Microsoft word, Power point, paint brush, word pad, windows media player, Microsoft management console, Excel data records and other similar sensitive applications. The advanced features in the software eliminate deleted system files including administrator temporary file, system registry traces, clipboard contents, recycle bin, windows event log, network folder etc.
Secure Data Wiper Screenshots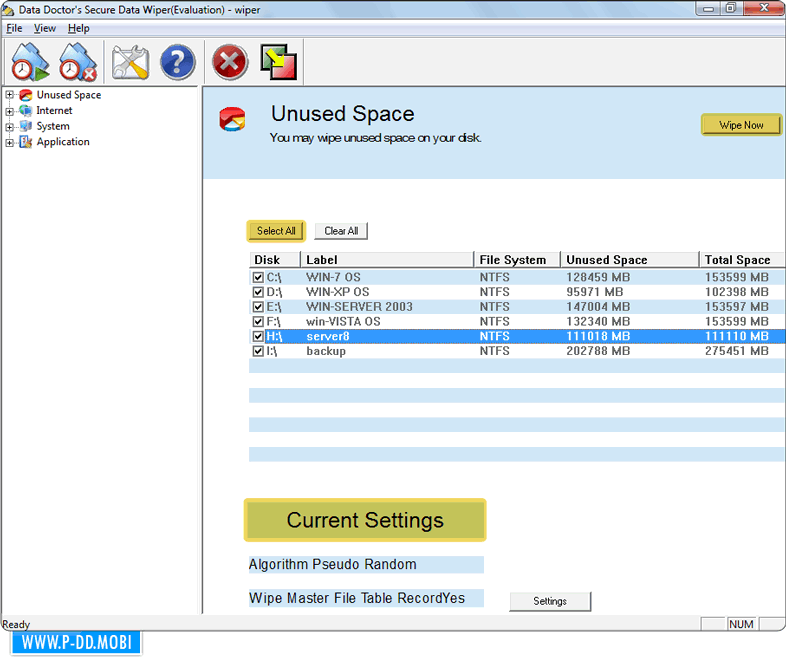 Product Features:
Clean your unwanted data files for better performance of your computer system.
Completely wipes all your internet activities including recently deleted document list, online and offline internet activities and other similar application.
The software operates in destructive and non-destructive wiping mode.
The software is very easy to use and does not require any technical skills to operate the software.
Data Doctor's Secure Data Wiper is a complete solution to wipe useless files and keep your computer privacy.
The software follows the highest standards for wiping information.